Arijit Singh's mother dies of COVID-19 in Kolkata
By Lokmat English Desk | Published: May 20, 2021 04:11 PM2021-05-20T16:11:50+5:302021-05-20T16:18:07+5:30
Ace singer Arijit Singh's mother, who was undergoing COVID-19 treatment in Kolkata passed away on Thursday. As per a ...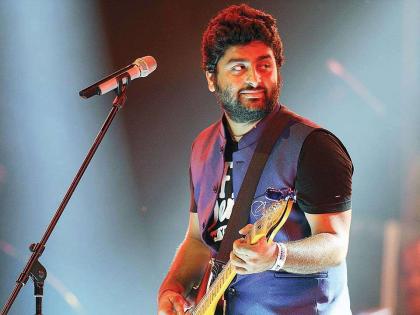 Next
Ace singer Arijit Singh's mother, who was undergoing COVID-19 treatment in Kolkata passed away on Thursday. As per a India Today report, she was in critical condition and breathed her last around 11 am today. Arijit's mother was admitted to AMRI Dhakuria hospital The news was shared by actress Swastika Mukherjee on social media. Mukherjee had taken to Twitter to seek blood donors for the singer's mother. "Need A- blood for singer Arijit Singh's mother, admitted in Amri Dhakuria. Need it today. Pls contact @swatihihihi with verified MALE DONORS," read her tweet.
On April 23, 2021, Arijit had taken to his Facebook page and urged people to stay safe amid the pandemic. He wrote, "I have been Been praying continuously with one focus in mind. We should win this battle. No more people should pass away like this. I am appealing to my beloved people to join me mentally through this prayer. You do not have to take out any extra time to do this. Just pray while you keep doing what you do. Let our consciousness become a collective one and let us be strengthened. May every life survive this. May we get 1.The deserved opportunity to be tested2.Test reports 3.Beds4.Oxygen5.Injections 6.Medicine7. Intensive Care Unit 8. Doctors and nurses to attend 9. Empathy and care for each other(Doctor and nurse-patient and family)Also, It is my humble request to you to understand the situation. We might be going through a mass transmission. Lots of people are getting affected by Sars coV2 now. We have our mobile phones. Please go and check what's happening with all the states and the people. Understand the gravity of this situation. Please Be home Do not unnecessarily go anywhere. We can not stop a humongous amount of people from going out and celebrate their own selfishness But we can choose to be caring for ourselves and other people around us. Spread this to everyone, please. Tell everyone to wear a mask and sanitise themselves. Be aware of your body. This time RT PCR is failing sometimes. You might have different symptoms Read about it, please. Be active and happy to be immune. Do yoga exercises Eat well Sleep well Play physical and mental games Sing or chant Whoever is facing a problem due to shortness of breath Please use a prone position to increase the capacity of your lungs so that you get oxygen for survival. The prone position is when you lie down on your stomach and chest. Keep breathing..!!!Please let's depend on our own because we are on our own now. Guru Rabindranath Thakur once said" Jodi tor daak shune keu na ase tobe akla chalo re"My love to you my elders, seniors, juniors, kids. Tatwamasi."
Open in app