Japan asks Lebanon for further cooperation on Ghosn
By IANS | Published: January 8, 2020 10:24 AM2020-01-08T10:24:08+5:302020-01-08T10:50:05+5:30
Tokyo's Ambassador to Beirut has asked Lebanese President Michel Aoun for more cooperation in the case against Carlos Ghosn, the ousted Nissan chief who fled Japan to the Arab country, the Lebanese presidency has said.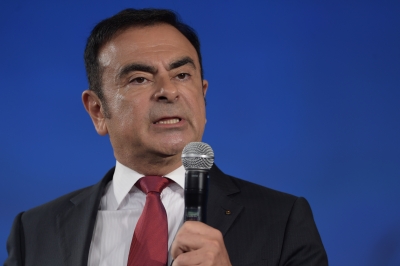 "Japan is extremely concerned about the case of Carlos Ghosn especially due to the way he left Japan and entered Lebanon," Takeshi Okubo said on Tuesday during a meeting held at the Baabda presidential palace.
He asked for "more cooperation in this regard to avoid negative consequences on our friendly relations, especially that I am doing intense efforts to maintain the relations between the two people and countries", reports Efe news.
The Japanese embassy in Lebanon, meanwhile, issued a statement that did not make reference to "negative consequences", but it did demand more cooperation.
"Ambassador Okubo stated that defendant Carlos Ghosn's illegal departure from Japan and arrival in Lebanon is deeply regrettable and can never be overlooked by the Government of Japan," the statement said.
"He requested that the government of Lebanon should provide all necessary cooperation on this matter, for which Japan has grave concern, including ascertaining the facts behind this case," it said.
Lebanon "maintains the safety of all its citizens, residents or present on their territory, without discrimination", Aoun was cited as saying by the state-run NNA news agency after a meeting with the UN special coordinator for Lebanon, Jan Kubis.
Aoun did not specifically mention Ghosn, who was facing charges of alleged financial misconduct in Japan.
Ghosn, the former president of Nissan, escaped Japan in secret via Osaka airport.
He is scheduled to hold a press conference on Wednesday, which will be his first appearance since he was arrested in Japan on November 19, 2019.
The Lebanese public prosecutor's office has also received an Interpol red notice requesting authorities to preventively arrest Ghosn while he awaits extradition.
Japan does not have an extradition treaty with Lebanon.
( With inputs from IANS )
Open in app