COVID-19 Third Wave: When will third covid wave occur? Experts reveal
By Lokmat English Desk | Published: May 6, 2021 01:07 PM2021-05-06T13:07:33+5:302021-05-06T13:13:35+5:30
The country is currently experiencing another wave of corona virus infections. The third wave is also being discussed by ...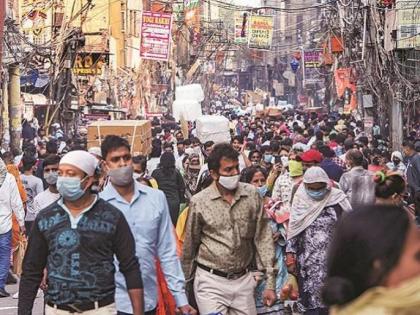 The country is currently experiencing another wave of corona virus infections. The third wave is also being discussed by experts. Principal Scientific Advisor to Centre K VijayRaghavan on Wednesday said that the "third phase" of the COVID-19 is inevitable.
VijayRaghavan, while briefing the media personnel over the COVID-19 situation in the country said, "Variants are transmitted same as original strain. It does not have the properties of new kinds of transmission. It infects humans in a manner that makes it more transmissible as it gains entry, makes more copies and goes on, same as the original."
"A phase three is inevitable, given the higher levels of circulating virus but it is not clear on what time scale this phase three will occur. We should prepare for new waves," the Principal Scientific Advisor said.
"Previous infection and vaccine will cause an adaptive treasure on the virus, a new kind of changes that will escape. Therefore, we should be prepared scientifically to take care of that," he said.
VijayRaghavan further said, "Vaccines are effective against current variants. New variants will arise all over the world and in India too but variants that increase transmission will likely plateau. Immune evasive variants and those which lower or increase disease severity will arise going ahead."
"Scientists of India and all over the world are working to anticipate these kinds of variants and act against them rapidly by early warning and developing modified tools. It is an intense research program, happening in India and abroad," he added.
When will the third wave come?
Dr. Giridhar Babu, an epidemiologist at the Indian Institute of Public Health in Bangalore, said, "The third wave is likely to come in winter. This third wave could occur in late November or early December. Therefore, those who are most at risk from this infection need to be vaccinated. He also said, 'The third wave depends on three things. The first is how many people we vaccinate by December. The second is how much we can prevent a super spreader event and the third is how quickly we can identify and prevent a new variant of the virus.

What could happen when the third wave of corona comes?
On this, Mathematical Model Expert Professor M Vidyasagar said, 'In the second wave, more people are getting infected. There are also people who are not tested or are asymptomatic. But they are infected. Those who become infected will have immunity against the virus for at least six months. But then immunity can weaken. Therefore, the vaccination program should be expedited. High risk people should be vaccinated within 6 months. So that the third wave should not be as frightening as the second wave'.
Open in app