Hyderabad train crash: Loco pilot rescued from mangled cabin (2nd Lead)
By IANS | Published: November 11, 2019 09:30 PM2019-11-11T21:30:05+5:302019-11-11T21:40:06+5:30
After eight hours of gruelling efforts, rescue workers pulled out the loco pilot alive from the mangled motorman cabin of a local train, which rammed into a stationary express train at Kachiguda railway station here on Monday, injuring 16 passengers.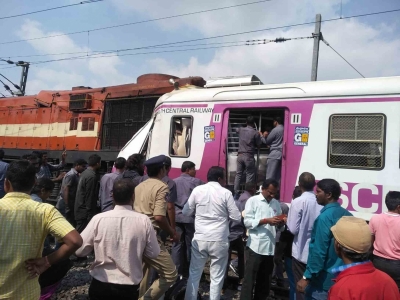 Next
Personnel of National Disaster Response Force (NDRF) and Accident Relief Team of the South Central Railway (SCR) cut through the cabin with the help of gas cutters to rescue 31-year-old Chandrasekhar, who was later shifted to a hospital.
The loco pilot spent eight long hours stuck in the cabin of Multi-Modal Transport System (MMTS), which rammed into Kurnool City-Secunderabad Hundry Intercity Express around 10.30 a.m.
The medical teams were supplying the loco pilot oxygen and saline to ensure that he would not fall unconscious.
The Express train had stopped near the station for the signal when Lingampally-Falaknuma MMTS train entered the same track and collided head-on with it.
SCR officials said six coaches of MMTS train and three coaches of Hundry Express were affected.
Doctors at government-run Osmania General Hospital said 16 injured were brought to the hospital and six of them were discharged.
Telangana Governor Tamilasai Soundararajan directed Osmania Hospital superintendent to provide the best possible treatment to the injured.
Union Minister of State for Home G. Kishan Reddy visited the accident site in the evening and enquired from the officials about the cause of the collision and the rescue and relief works.
Though technical error in signaling system was initially believed to have caused the accident, SCR officials later ruled out the possibility. They blamed human error for the collision.
B. B. Singh, Additional General Manager, SCR, said a high-level inquiry will be conducted into the accident.
One of the passenger of Express train said the collision occurred when the train started moving. "All passengers were jolted by its impact. The children were badly affected," he said.
Eye-witnesses said a major tragedy was averted as MMTS train was running slowly and the Express train was almost stationary.
The accident affected movement of trains on Kachiguda-Falaknuma section. Several trains including MMTS services were cancelled.
( With inputs from IANS )
Open in app